Need emergency support, to schedule a service, or request a quote?
Commercial Door Products in Harrisburg
When you need us, we'll be there to discuss your options. Our on-site representative will walk you through product types, sizes, and most importantly, perform field measurements to ensure your new door is the proper size and components are suited for your specific job conditions.
Heavy Duty Sectional Doors
Why a Heavy Duty Sectional Door?
Heavy duty sectional doors provide the perfect degree of temperature control, protection and safety – no matter what your organization requires. In most industrial spaces, collisions between forklifts and doors are common. A heavy duty sectional door provides breakaway construction that gives in both direction and can easily be reset by team members.
Heavy duty sectional doors from Central State Door Service are available with polyurethane and polystyrene insulation, or with no insulation. Ensure safety, productivity, thermal efficiency and design aesthetics when you get a high-quality heavy duty sectional door from Central State Door Service.
The Central State Door Service Advantage
Central State Door Service has served as Harrisburg's trusted option for more than 70 years.  We're proud of the 100,000-plus customers we have served, as well as the more than 300,000 installations we have performed. We are eager to help you identify and install the perfect heavy duty sectional door for your business. Contact our Harrisburg office today for a free quote!
Full View Aluminum Heavy Duty Doors
This unique series can be a single section within standard doors for increased vision, or can be all glass structured within the aluminum frame. The frame can be powder coat painted to match your facility, and the glass is available in insulated translucent polycarbonate, plexiglass, wire security glass, or standard DSB glass. Interior track is available in corrosion resistant powder coat finish, and counterbalance helical torsion spring galvanized for severe environments. Sized small enough for a single car, or large enough for an earth mover.
Why Choose a Full View Door?
Full view aluminum doors are designed to allow unrestricted visibility both inside and out. That means your team members can see outside and your customers can see in. Another benefit of full view aluminum doors is that they allow the maximum amount of sunlight to pass through, creating a brighter and more pleasant work area.
We Can Match You With the Right Product
With one of the most knowledgeable teams in the area, we have the resources necessary to find creative solutions to any engineering challenge. We can also perform every installation to the highest standard of quality possible. For more information about our full view aluminum doors, or to request a quote, call us today.
Rolling Steel Service Doors
Benefits of Rolling Steel
A rolling steel service door is a highly durable heavy-duty option for any business. They offer various advantages for long term usage such as added security, lower cost of ownership and fewer moving parts than traditional sectional type doors. Known as the industry's workhorse, rolling steel service doors have become the favored door in severe environments.
Choose from a wide range of materials and configurations, including insulated and non-insulated models. Insulated doors are worth the upgrade if you want to save on heating and increase the comfort of your employees year-round. Non-insulated models are more economical while still delivering exceptional durability. Need assistance choosing the best door installation for your needs? A Central State Door Service representative will be happy to help.
The Value of Rolling Steel Doors
A rolling steel door makes an excellent choice for any garage, storage facility or other related operation. At Central State Door Service, we carry a great selection of products that will deliver value in any application, both now and for years to come. We have invested in the people and the technology necessary to come up with creative solutions for any design issue. Find out more by contacting our office today.
Bug Screen Sectional Doors
Why Use a Bug Screen Sectional Door 
A bug screen sectional door provides exceptional protection from bugs, birds, rodents and pests entering your facility, while allowing for significant airflow within your dock area.  Our stainless steel mesh complies with all food safety and food defense regulations for your food plant.  Our door can be added to your existing dock door vertical tracks and a switch mechanism and a second set of horizontal tracks.
Configurations
Our bug screen sectional doors can be installed in low headroom applications, high lift clearance and full vertical lift track configurations designed to fit your facility just right.  To see if our bug screen doors are right for you, contact our team today.   
Knock-Out Sectional Doors
The Benefits of Knock-Out Doors are Many
If your facility is like most, your dock doors are taking a beating day in and day out. The cost associated with damaged sections on a dock door is far more than you might think.  First, there is the expense of replacing door sections, but more costly is the downtime that you experience with that dock bay being out of commission. When your dock door is damaged, you cannot ship and receive freight that is needed for you to run an efficient business.  In some cases, the damage creates a safety concern as you may not be able to lock/secure the door properly during off hours.
Designed to Take a Punch
Our Knock-Out Sectional Doors are the industry's most rugged door, designed specifically for severe applications where other doors fail.  The Knock-Out design eliminates severe section damage, track damage and performs better in high wind load conditions.  When our Knock-Out doors are hit, the heavy-duty retractable plungers allow door to release from the opening without damage.  It requires no tools to reset the door back into the tracking. Knock-Out Doors available in 1-3/4", 2" Thick, and 4" Thick Insulated. Also available in a Universal Superflex Section option to retrofit existing Doors. Contact us today about our Knock-Out Sectional Doors!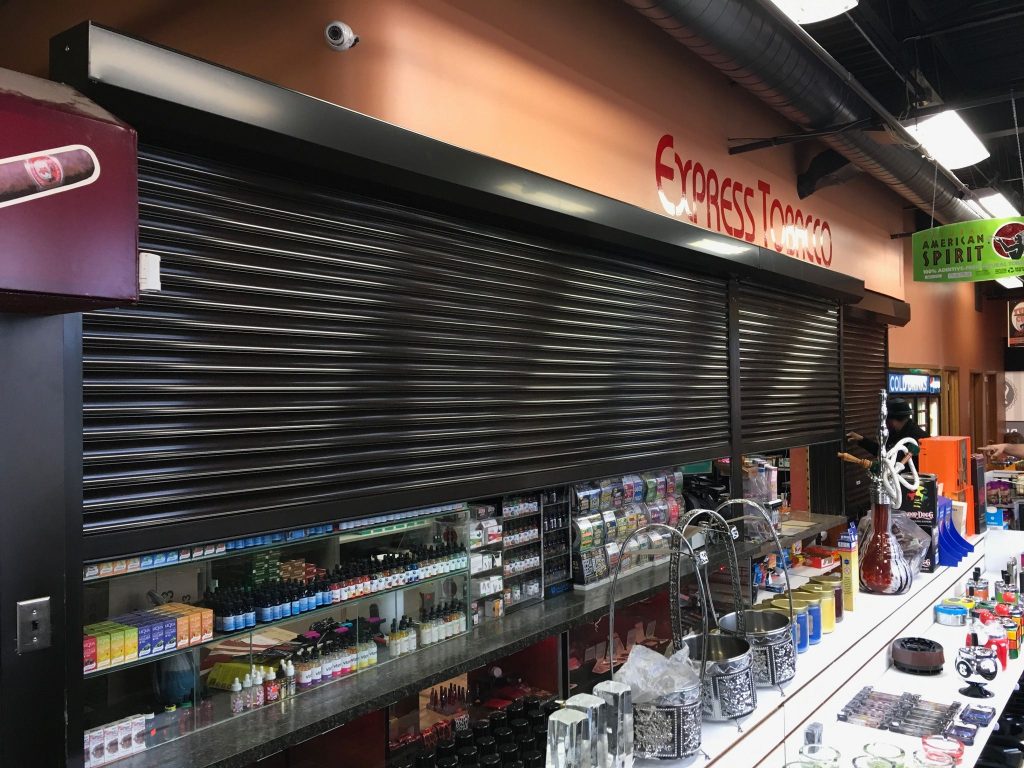 Interior Applications
– Motorized or Manual
– Pharmacy
– Retail Stores
Most intrusions happen through windows and doors. Securing these vulnerable areas of entry should be your number one priority in break-in prevention. Our security shutters provide excellent protection for both commercial and residential properties. Our roll shutters and roll grilles are removable, retractable, and non-permanent which gives our customers greater control. We also offer multiple locking options, colors, and perforations.
This includes:
•Visible barrier
•Optional perforation
•Optional end-retention system
•Locking mechanism
•Unobtrusive design
•Non-corrosive materials
Interior / Exterior Applications
– Motorized or Manual
– Storefront Security
– Pharmacy
– Retail