Need emergency support, to schedule a service, or request a quote?
Central State Door Service carries a wide range of dock levelers in various sizes and configurations. We exclusively feature well-respected products that are strong, reliable and easy-to-use. In busy loading facilities, our products can stand the test of time, facilitating safe and secure loading, day in and day out. Contact us for a free estimate!
Central State Door Service carries a wide range of mechanical dock levelers in various sizes and configurations. We exclusively feature well-respected products that are strong, reliable and easy-to-use. In busy loading facilities, our products can stand the test of time, facilitating safe and secure loading, day in and day out.
Key features include a one-of-a-kind loading dock plate design — a lip lug and header — that provides a gap-free connection between a truck and a loading bay. A hold-down with simple release provides unrestricted float, and a full yielding walkout lip extension makes operation smoother and more efficient, particularly in busy facilities where any error can seriously impact productivity. All of our mechanical dock levelers offer superior ergonomics and withstand any weather conditions.
Warranty and Support
An exclusive manufacturer's warranty valid for one year after the date of installation backs our mechanical dock levelers. Additional structural components are warrantied for up to ten years.
When you trust Central State Door Service to install your mechanical dock leveler, you can count on our expert support for as long as you own your product. We'll be there to provide all required maintenance and repairs. For more information about how we can help you or assistance choosing the right mechanical leveler for your needs, contact our office today.
Central State Door Service's hydraulic dock levelers are an excellent upgrade over their mechanical counterparts. They offer smooth and efficient operation, while withstanding the rigors of any busy loading facility. We offer products from some of today's most trusted manufacturers and provide the installation and ongoing support to ensure they offer reliable performance for years to come.
Our products include a number of features not found on competing models, such as a unitized structure with continuous welds at the header plate, beam and lugs. This adds additional strength and resistance to rust and wear. Other features contributing to our hydraulic dock levelers' durability include 50-55,000 PSI yield material for select components and a continuous rear hinge assembly with no pinch point.
Efficient, Smooth Hydraulic Operation
One of the hallmarks of our hydraulic dock levelers is their straightforward, one-button operation. With this system, one button raises the deck, extends the lip, lowers the lip onto the truck bed and stores the leveler. A frame-mounted, integral hydraulic assembly and enclosed, non-ventilated motor provide the power. All hydraulics offer maximum durability and feature a heavy-duty design, polished chrome rods and high-pressure seals.
We will be happy to assess your needs and provide a quote for a turnkey or customized system for your facility. We back all our products with an exceptional manufacturer's warranty. We also provide maintenance and repairs as necessary to keep your purchase working reliably and efficiently for years to come.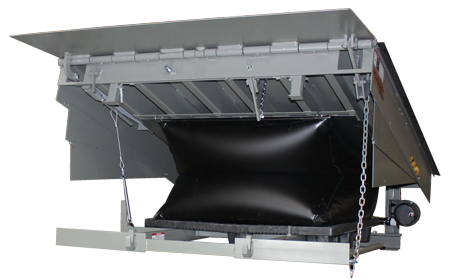 Air Powered Dock Levelers
An air-powered dock leveler from Central State Door Service is an invaluable addition to any loading facility, one that will improve productivity and reduce cycle times for years to come. Like all of our products, our air-powered dock levelers come from today's leading manufacturers and offer quality you can trust, even in heavy-duty applications.
Features at a Glance
Our air-powered dock levelers include a number of advanced features, each of which facilitates efficient performance. This next-generation technology includes:
High-strength, 4-way safety tread plate, deck and lip assembly: 55,000 psi yield.
Full-width self cleaning, heavy-wall hinge tube: 70,000 psi yield.
Gussets on lip and headboard hinge maximize support.
3/8″ Thick, 50,000 psi yield, headboard with bridged gaps.
Structural, precision-formed "C" beams; 65,000 psi yield. Specially designed beams allow Pentalift to create and
build the deck support with optimal strength-to-weight ratio for a dock leveler. Utilizing 10 beams assures an even
load distribution and maximum deck support.
Central deck beam provides added support for three wheeled vehicles.
Rear frame assembly features four vertical structural members with six points of even support for the full width
of the rear hinge.
Heavy-duty front frame provides full width, cross traffic support and superior building aesthetics.
Night locks prevent unauthorized entry when overhead door is locked on top of dock leveler.
Full width, structural channel tail board and one piece, full width rear hinge, complete with heavy steel
gussets. Pentalift's unique, welded assembly provides a box section for superior support and strength.
Available Exclusively From Central State Door Service
To learn more about how an air-powered dock leveler can benefit your facility, contact a Central State Door Service representative today. We are available to provide detailed system specifications or a quote for installation in your facility.
Edge-of-dock levelers are ideal for use in loading and unloading environments where there is little variance in trailer heights. They are an excellent, lower-cost alternative to an air-powered or hydraulic dock leveler — and they won't sacrifice performance or reliability.
Central State Door Service carries both manual and hydraulic dock levelers, as well as a range of accessories such as vehicle restraint systems, safety barrier gates and more. We back all of our products with our industry-leading commitment to regular maintenance and customer support.
Manual Edge-of-Dock Levelers
Our manual edge-of-dock levelers feature a lip hinge that's lug-type as well as deck and lip rods that are plated. They are available in several different configurations to meet the needs of a wide range of shipping and loading facilities. Capable of handling between 20,000 and 50,000 lbs., our products are tough. We back them with an excellent warranty. An automatic return-to-deck function and lever-activated lip extension deliver improved productivity and faster loading/unloading times.
Hydraulic Edge-of-Dock Levelers
Hydraulic edge-of-dock levelers feature easy-to-use push-button operation and an NEMA 12 enclosed control unit to prevent contamination from dust and oil. We carry several different models, with deck widths ranging from 66" to 83" and capacities up to 60,000 lbs. Choose a hydraulic deck loader for any heavy-duty application. For additional convenience and durability, our products feature a 1 horsepower hydraulic unit, full or fixed rear hinge, self-housed motor pump system and automatic return-to-dock function.
Let us put together a package containing an edge-of-dock leveler and related accessories that meet the specific needs of your operation. Call or email our office to get started today.
Vehicle restraints play an important safety role in busy loading docks. Central State Door Service has a number of manually operated, non-impact vehicle restraint systems for sale that are easy-to-use and cost-effective. Working with some of today's leading manufacturers, we sell and install products capable of providing up to 32,000 lbs. of restraining force. Use them to engage and lock a trailer's rear-impact guard so it stays put while your crew works, reducing the risk of an accident and limiting your liability.
How It Works
Our vehicle restraint systems use a manually activated control bar and barrier system that automatically adjusts to trailer movement. You can use these restraints with rear-impact guards up to 30 inches above grade. They maintain positive contact at all times. Certain models have an optional barrier-mounted sensor bar that automatically alerts the operator when the guard has been engaged.
All of our vehicle restraints feature a low-profile housing that stores easily at 9 inches above grade, keeping sensitive components safe and avoiding damage due to debris, snow, ice and other weather.
We Service What We Sell
At Central State Door Service, we not only sell and install advanced vehicle restraints, we also offer ongoing service support to keep your purchase working its best for years to come. If you ever have an issue with your restraint, one call to our office is all it takes to have a technician dispatched to your location.
We are proud to offer both quality products and expert support to all customers. Call or email a sales representative today to discover what we can do for you.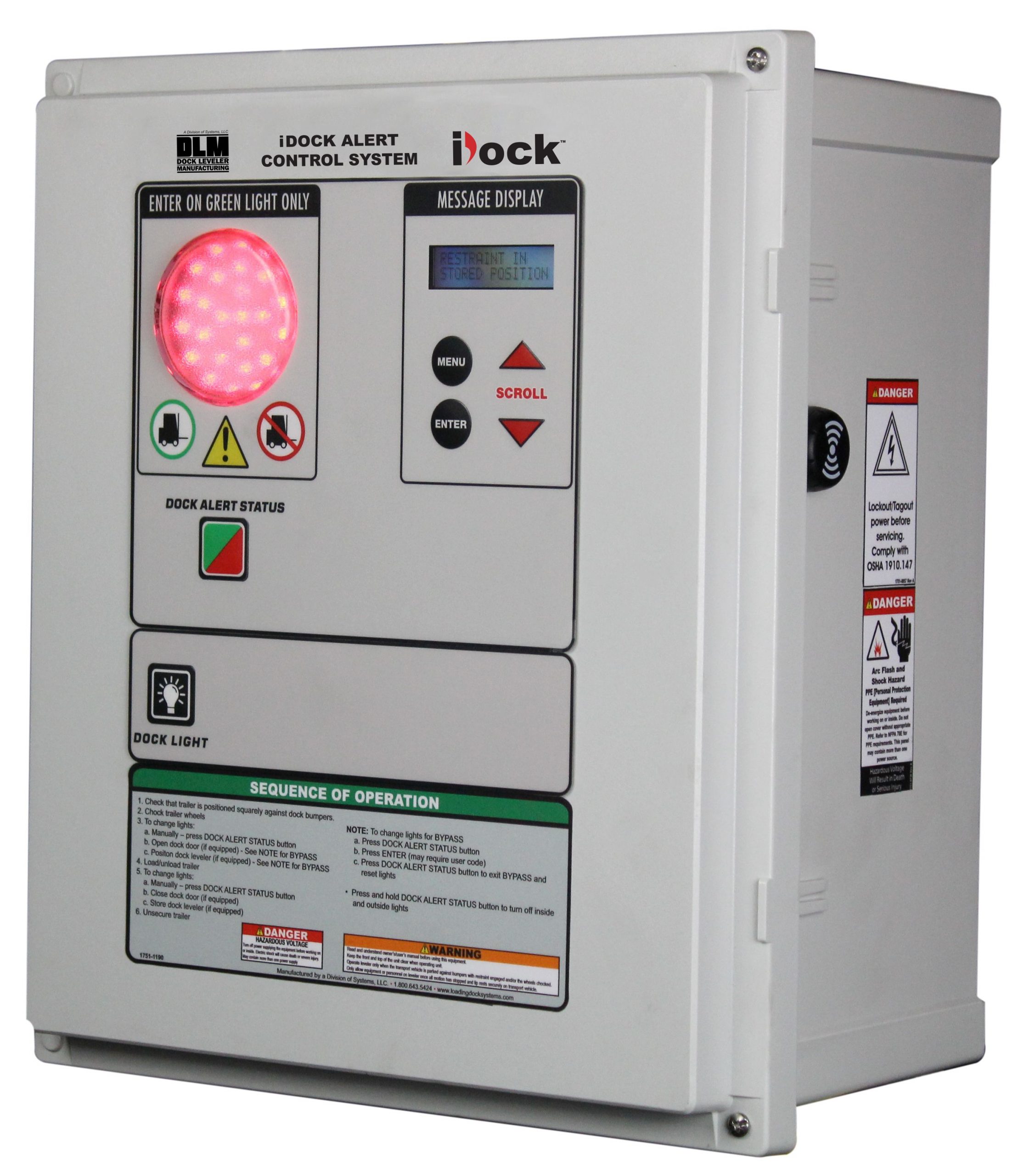 You've invested in the best dock levelers, doors and communication lights available to help your facility run more safely and maintain optimal efficiency. An integrated control system allows you to make the most of these components by putting their full functionality at your fingertips.
At Central State Door Service, we sell and install some of the most advanced control systems on the market today. Our products work seamlessly with your existing door and dock systems, while positioning you for future expansions. Let us match you with the right control system for your needs. To discuss installation options with a qualified salesperson, contact a Central State Door Service representative today.
Benefits at a Glance
Our control systems offer a number of benefits for operations of all sizes. Use them to:
Free up wall space by consolidating controls for various equipment and systems into a single, easily accessible panel
Interconnect equipment operation, so your team can access controls and respond to emergencies more effectively
Simplify maintenance and diagnostics — while reducing the risk of damage due to weather or debris — by placing controls for multiple devices in a single location
Use a Central State Door Service integrated control panel for your dock leveler, vehicle restraint, barrier gate, overhead doors and loading dock lights. Units run on a 120v power supply, and you can outfit them with optional accessories such as LED lights, fans, disconnects and more.
We install and provide ongoing support for all products we sell. Our integrated control panels are no exception. We can set up any control panel in your location and provide training to key staff so you get the most out of your investment.
Dock Seals & Dock Shelters
Dock seals and shelters are important to any loading facility, particularly those in areas prone to rain or severe weather. Let Central State Door Service match you with the right product for your facility. We sell and install a comprehensive selection of seals and shelters, backing up everything with our industry-leading customer support.
Dock Seals
Central State Door Service can supply and install dock seals for openings of any shape or size. Our products are made from durable polyurethane foam for maximum weather protection and tear resistance. Memory foam core side pads adjust automatically to create a seal that traps heat in your facility and keeps dust, insects and other irritants out. A drainage system routes water away from the seal, preventing mold buildup and reducing the risk of damage to your building. Use our door seals to save energy, increase productivity and prevent on-the-job accidents. Contact a Central State Door Service representative for more information or to request a quote.
Dock Shelters
Our dock shelters employ the same high-tech materials as our seals but feature improved coverage for greater protection against the elements. Shelters have vertical curtains to provide improved water diversion, maximum weather sealing and unrestricted trailer access. A translucent fiberglass cover lets in natural light, and multiple fabric options allow you to choose the best setup for your needs. Central State Door Service dock shelters make an excellent addition to a complete door system. Use them in conjunction with any of our levelers, restraints, barrier gates and other products.
Vertical Storing Hydraulic Leveler
Vertical storing dock levelers are hydraulically operated and offer unmatched environmental control for customers with food storage or temperature sensitive applications. By storing in the vertical position, the VS Series allows the overhead door to form a perfect seal to the pit floor. VS Series levelers also  offer improved cleanliness, overhead door protection, increased security, improved productivity, and easy maintenance.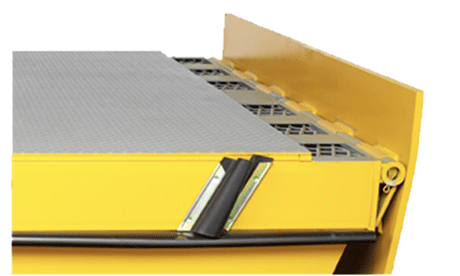 Loading Dock Safety Barrier
DLM's Barrier Lip prevents lift trucks from inadvertently driving over the dock edge at an idle dock location. The barrier lip leveler provides full-time protection not only in a cross traffic position but also when end-loading, which can be the most vulnerable time for a truck to depart prematurely. The barrier automatically disappears when the leveler descends onto a truck and offers a smooth transition between the platform and lip.