Need emergency support, to schedule a service, or request a quote?
Annual Fire Door Drop Testing is a mandatory requirement NFPA 80 that helps building owners, occupants, property managers and risk managers mitigate risk to ensure their buildings are prepared in the event of a fire emergency.
Why choose Central State Door Service for NFPA-80 Fire Door Drop Tests?
Experience Matters:
With over 80-years under our belts, we've got the know-how and certifications required to perform NFPA-80 drop tests that are "By-the-Book". We don't cut corners when it comes to fire door testing and safety within your workplace. Our experienced certified technicians will get right to work, testing your doors, recording the results along the way. Video recording during tests available upon request.
Training:
Central State Door Service invests heavily in technician training, as it is a critical part of our core values to Exceed Expectations. Our technicians are industry certified and have extensive experience with fire door installations, repairs and NFPA-80 Drop Tests.
Risk Mitigation:
Training, certification and experience mitigates your risk by using our knowledge and experience to provide you with the very best fire door testing services and resolutions that meet the latest NFPA-80 standards. Additionally, we keep documentation of all our drop testing on hand in the event of an emergency.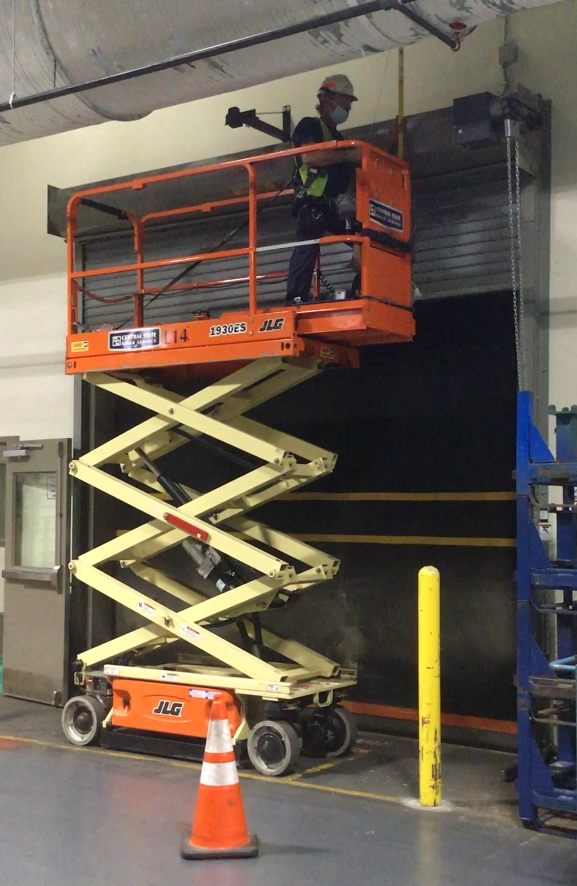 Inspect for Proper Operation
Inspect for Damaged, Incorrect, or Missing Components
Inspect Accessory Equipment
Perform Operational Inspection
Perform Drop Test #1 (Video Recording Available)
Perform Drop Test #2 (Video Recording Available)
Documentation and Next Steps
After the drop test is performed, our certified technicians will determine whether your door condition warrants a Pass or Fail.
Doors that have a Pass Distinction:
 We will provide you with a copy of the NFPA-80 Drop Test form for your records.
 We will affix our NFPA 80 Drop Test Sticker to your Door, Dated with Tech Initials & indicate "Pass"
Door that have a Fail Distinction:
 We will provide you with a Deficiency Report Outlining Component or Operational Failures.
Deficiency Repairs:

All replacement components must be OEM components, in compliance with NFPA-80 Standards.
 Upon completion of service or replacement of OEM components, we will perform the NFPA-80 Fire Door Drop Test procedure to ensure your door receives a Pass Distinction.